[two_third]
It seems like yesterday I was walking into a gym at the Nike Peach Jam in Georgia or Boo Williams showcase in Virginia. Stepping on to the court with the likes of Amar'e Stoudemire, Tyson Chandler, J.J. Redick, or Kwame Brown was a regular for me from my freshmen year to senior year as a high school player. If it wasn't at those summer tournaments it was at the Adidas ABCD Camp Top 250 in the country, in New Jersey where I would be for 4 days playing against the best the world had to offer! Lebron, Telfair, Eddy Curry, Mo Williams, they were all there. Check out this clip:
I held my own, played with the best and it lead me to a top 100 or top 200 ranking in the country, depending on scouting service. All of that hard work and constant grind lead me to a successful college basketball career and a 9 year (still going) professional basketball career. At the end of the day though, it was the hard work in the gym by myself or with my father that lead me to where I am today, just as much as playing against the best in the world!
*** BEST ADVICE ON AAU TOURNAMENTS***
1. Be in SHAPE! You might play 4-6 games in two days! You NEVER KNOW when a coach could be watching you or just walking by your court to go check out another game. That one play or 2 minutes in the 3rd game of the day could be your ONE chance to make an impression!! ALWAYS BE READY
 2. Don't walk around with a bad attitude or try and do things you can't! SHOWCASE YOUR ABILITIES! Coaches don't like head cases or players that try and do too much.
 3. Help yourself! If you are open, have a driving lane or opportunity to dunk.. TAKE IT! If you think AAU is for holding back and High School ball is where the college coach will SEE you.. That's a LIE! Take advantage NOW! BE DIFFERENT!
As another year of middle school and high school is coming to a close, we are stuck with a big question in the lives of kids and parents. Is spring/summer basketball the key to your son or daughter's future? This is a question I have wrestled with since I was a top high school player growing up in the early 2000's in Alabama. I will never disagree with playing against the best competition around, but you have to choose wisely other paths that will lead you to your ultimate goals.
VigliancoHoops trains players that want to be the best and reach their ultimate goal of high school all-state and college level players, so I will approach this post accordingly. There are 3 ways to develop your game in the summer and I think a mixture of all 3 is a great way to tackle your summer goals and make smart plans for you and your family.
1. Work on YOUR game by yourself and with a trainer, friend or family member. This is the most important way of honing your game and skills in the summer. In the basketball world today, the majority of people think it's all about playing games. I think kids need to stay away from only playing games and focus on their skill set as well. Kids and parents need to be honest with themselves and realize that there is plenty to work on individually before ever thinking of getting a college scholarship. You have to approach basketball in the springtime and summertime like a 4 month Chemistry/Algebra class! 1. It's going to be a GRIND! 2. You have to put in the work to understand concepts 3. You must put in extra study time and seek help when needed 4. If you don't prepare correctly you will pay for it. 5. At the end of the day all the hard work, long hours and missed fun times will be rewarded with a solid grade and CONFIDENCE that you can accomplish anything!
Putting up shots and working on your game in some form every day is key in the summertime. The amount of free time the majority of kids have is incredible. Establish some self discipline and hold yourself to a training regiment! You must be honest with yourself and put in the work that's going to help you become a better player. Working on drills and shooting HALF SPEED will not get your game better. Working GAME SPEED and figuring out what skills you lack is essential. Unless you are a Lebron James or Kevin Durant, you eventually will have to be really good/great at 1-3 things if you will make it as a college player or professional. How do you know what you are truly good at if you just play games all the time and never work on individual training? The most important and key ingredient to success in high school and eventually getting to college is honing your game by yourself and finding out all the intricacies of your game. As a high school player you want to showcase your skill set to college coaches! Once you get to college, your coach should focus in on the 1-3 things you do great and utilize those skills to the fullest!
2. Summer camps are great for your development, but you have to do your homework on what camp(s) are best for you. If parents and kids want to save hundreds to thousands of dollars they should study up on what camps are right for them. You can attend six summer basketball camps, but will it make you better if they aren't teaching fundamentals and skill work? Large camps teaching fun, shooting games and promising to keep your kids busy for 8 hours is not the route to go. Smaller camps teaching fundamentals, skill work, individual guidance and competitive games is the best route to take. I suggest keeping summer camps minimal and doing due diligence on finding the right camps to get the most bang for your buck! Summer is the time for you to develop and work on YOUR individual game more than anything.
3. In 2014, the 6th-12th grade basketball world revolves around AAU and travel teams. I could write a book about my personal experiences on AAU basketball, my thoughts on AAU and how it helps/hurts your game, but I will keep it short and give some quick thoughts on the AAU path for summer.
I grew up playing on two different teams for most of my AAU career. I played on a AAU Adidas team that was mainly associated with the Southeast and another AAU team, (Alabama Lasers) a Nike based team that was nationally ranked in the top 10. If it's possible I would recommend playing on a team that you can showcase your own skill set and talent. It's easy to get caught up in the bright lights and free gear, but you need to focus on getting better. Sitting on the bench or getting minimal time during the summer is a waste of time in my opinion. I understand you have to take your bumps and bruises, but if you are sacrificing your own time and money during the summer choose what is best for YOU! I was fortunate enough to have an AAU team that was sponsored by Nike. We had all of our expenses taken care of, but most teams/players don't have that luxury and have to shell out a lot of money. The higher level AAU team you play on, the more political it gets. If you are one of the top players in your state and have made a name for yourself early in your high school career then play on the top level AAU team, but if you aren't I strongly suggest playing for a team that will best showcase your talent and help develop your game. AAU is the way of the basketball world, but you have to choose between getting your overall game better or doing what everyone else does.
As I mentioned earlier you have to be honest with yourself and realize what skill/talent level you are at. It's easier said than done, but the only true way to accomplish your goals is by putting in the time and work. I tell VigliancoHoops clients from day one that private lessons, camps and AAU basketball is not the whole story to your success. There has to be a time when the light comes on and you start working on your game in your own time! Summer is one of the best times for getting your game better and AAU is a great tool to use, but at the end of the day it comes down to the player and his willingness to work on his own and put in the necessary smart/consistent time in the gym and in the weight room. Be honest with yourself and spend the summer getting better at things you do well and the things you lack. At the end of the day, if you are good enough to play college basketball you will be seen and given a shot to prove yourself. If you don't play against the best talent, go and find the best talent around to play against. Step out of your comfort bubble and drive 1-2 hours on a random day to play for 3-4 hours at a gym that you know has good players playing pickup. If you aren't seeing results you like, you must look in the mirror, work smarter and find new ways to get better. IF YOU AREN'T DOING THINGS ON AND OFF THE COURT TO GET BETTER, SOMEONE ELSE IS AND TAKING YOUR SPOT!
[/two_third]
[one_third_last]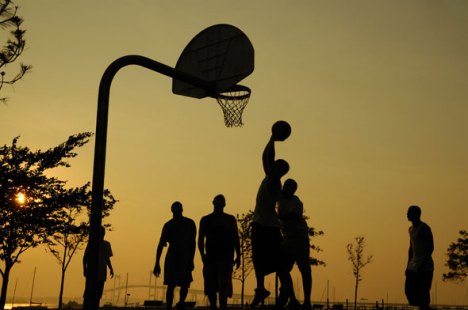 [/one_third_last]